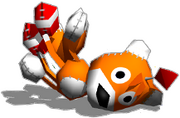 Tails Doll is a character from Sonic R and Sonic comics.
Age: 38
The Tigger
Edit
This is a creepypasta.
If you sing or heard the soundtrack in Sonic R:
Can You Feel The Sunshine Backwards
He would  come and kill you but it's not real.
Sonic Adventure
Edit
In Sonic Adventure  you can shoot the Tails Doll Target as Gamma or
As Sonic.